Telephone Headset Solutions by Plantronics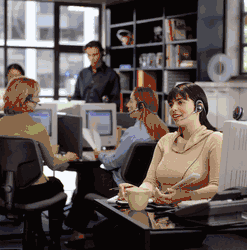 Telephone headset
solutions for office, call center, mobile, computer and home applications from Plantronics, the world leader in headset manufacturing and design. Founders Telecom offers a complete line of best-in-class
telephone headsets
for every need, with attractive styling and the legendary reliability that sets Plantronics headsets apart from all other brands.
Increase your workplace comfort while enjoying productivity gains with a Plantronics telephone headset today!
Simply click on the convenient blue category buttons on the left side of this page to navigate our website, or click on the photos below.
Plantronics invented the first lightweight telephone headset back in 1961, and over the past 40 years has set the industry standard for sound quality, comfort and durability. Here are just a few reasons why Plantronics is your best choice for telephone headsets:
Industry's best manufacturer's warranty on all products (2 years or 1 year, depending on product)
Superior sound quality
Ergonomic design
Lightweight convenience
All-day comfort
Convenient Quick Disconnect™ featured on all "H" series telephone headsets; acts as an on-hold function, allowing you to walk away from your phone while still wearing your headset
Widest selection
Choice of configurations (over-the-head, behind-the-head or over-the-ear)
Choice of voice tube or noise-canceling microphone
Choice of monaural (one ear pad) or binaural (two ear pads) telephone headset style
Choice of cordless or corded adapter
Service and support that's second to none